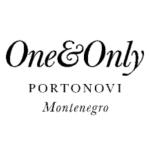 O kompaniji
Located in the heart of Boka Bay on the Adriatic Coast, One&Only Portonovi in Montenegro is the first One&Only Resort in Europe opened on 21st March 2021.
The resort is an essential part of Portonovi – a new 60-acre luxury lifestyle development being built on the picturesque shores of the Boka Bay in Montenegro.
The resort's architecture reflects the Venetian heritage and grand Italian palaces of the region, an elegant residential retreat on the shore of the Bay, harmonised with the surrounding heritage and immersing guests in the destination. It has 113 guest rooms, suites and villas, plus 10 One&Only Private Homes that offer access to their own beach and jetty, as well as secluded individual pools.
Tapasake
The resort features Tapasake Club, a vibrant Pool Club and restaurant, open to both resort and outside guests, featuring contemporary Asian fusion dining and regular DJ sets in a spectacular setting.
Restaurant Sabia – Bringing the spirit of Sardinia and all of Italy to the most special restaurant in this region
Marking its second-anniversary One&Only Portonovi is bringing a fresh touch to its beach restaurant Sabia with a new, exciting menu crafted by Italian chef Alessandro Mordini. The setting of Sabia, with its soft silvery sand, is unique on the Montenegrin coastline. Now Chef Mordini is enriching the experience with a tasty influence of Sardinia, which offers an exciting take on the traditionally sourced ingredients, focusing on fresh fish and vegetables. The mesmerizing "dolce vita" style is combined with the natural beauty of Boka bay, dramatic in its beauty and sophisticated in its atmosphere.
Indulge in the Flavors of Montenegro: A New Culinary Adventure at One&Only Portonovi's La Veranda Montenegrin Steakhouse
The finest selection of meat, local seasonal produce, exceptional wine, authentic interior and atmosphere describe the new concept of the restaurant La Veranda, which is turning into a Montenegrin steakhouse.
One&Only is completely redefining the resort well-being experience with the introduction of an exclusive global partnership with leading health wellness and beauty expert brand, Chenot. As the first resort brand to deliver a scientific approach to wellness in partnership with a brand that has over 50 years of experience in the medical spa, health and wellness field, Chenot is ideal to develop and implement various methods across the One&Only portfolio of resorts. Both brands have been industry pioneers and this partnership will revolutionize the guest experience.
One&Only Portonovi boasts a private and secluded sandy beach overlooking the bay, featuring One&Only beach resorts' signature experiences such as sun loungers and day beds, refreshing drinks and cocktails, and freshly prepared beach-side snacks in tranquil and laid-back surroundings.